This page is under construction!
Probably one of the easiest most straight forward ways to install Klipper is by using KIAUH. The main GitHub link is here.
The process for getting up and running with Klipper Firmware and Fluidd is outlined below.
Raspberry pi w/ proper power supply (3b+ or 4 recommended)
32gb SD card
Raspberry Pi OS (Lite or Desktop version)
-Recommend going with the lite version here to save some space and processing power of course.
Raspberry Pi Imager (link here)

You can use any other imager burner/copying software you would like. Balana Etcher is a good one as well. Raspberry Pi Imager has some cool features that allow you to setup SSH and a WiFi network before even creating the SD card.

Computer/laptop for prep work and to ssh to rpi
3D Printer (Of course right? )
Flash SD card with Raspberry Pi OS Lite - using Raspberry Pi Imager or other like application
Update Pi OS and install git
sudo apt update && sudo apt upgrade
sudo apt-get install git -y
Download and run the KIAUH script
cd ~
git clone https://github.com/th33xitus/kiauh.git
./kiauh/kiauh.sh
KIAUH Main menus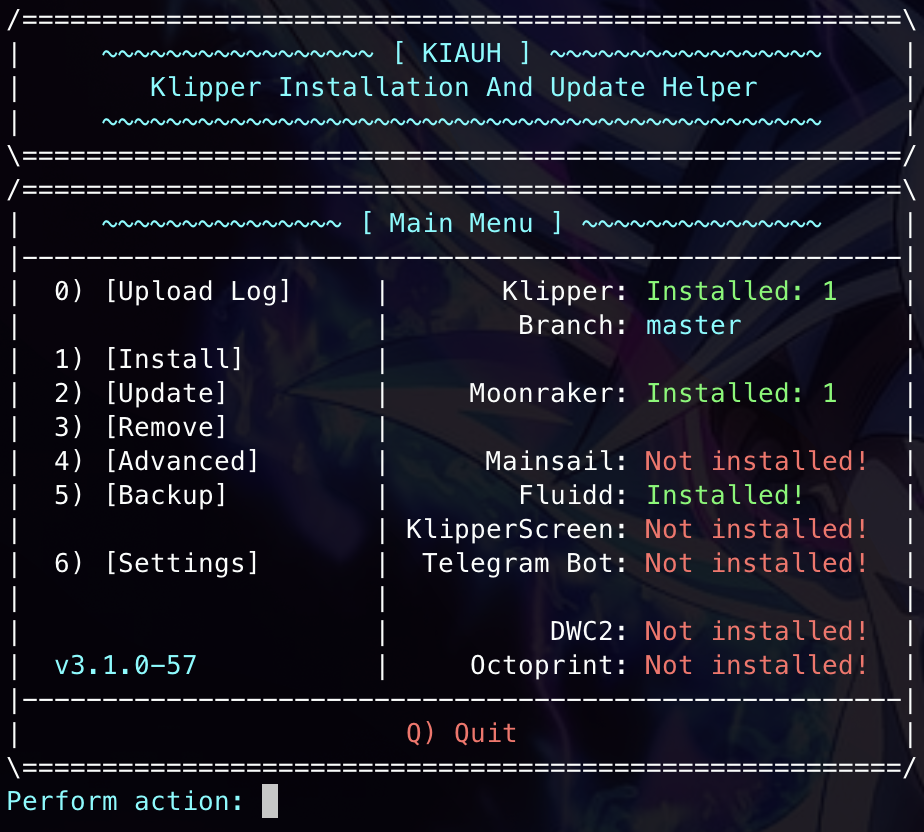 Select Number 1 and install Klipper first. This will ask you a series of questions first being where you want your klipper config to be stored. Leave everything default. After everything has completed move on to the next step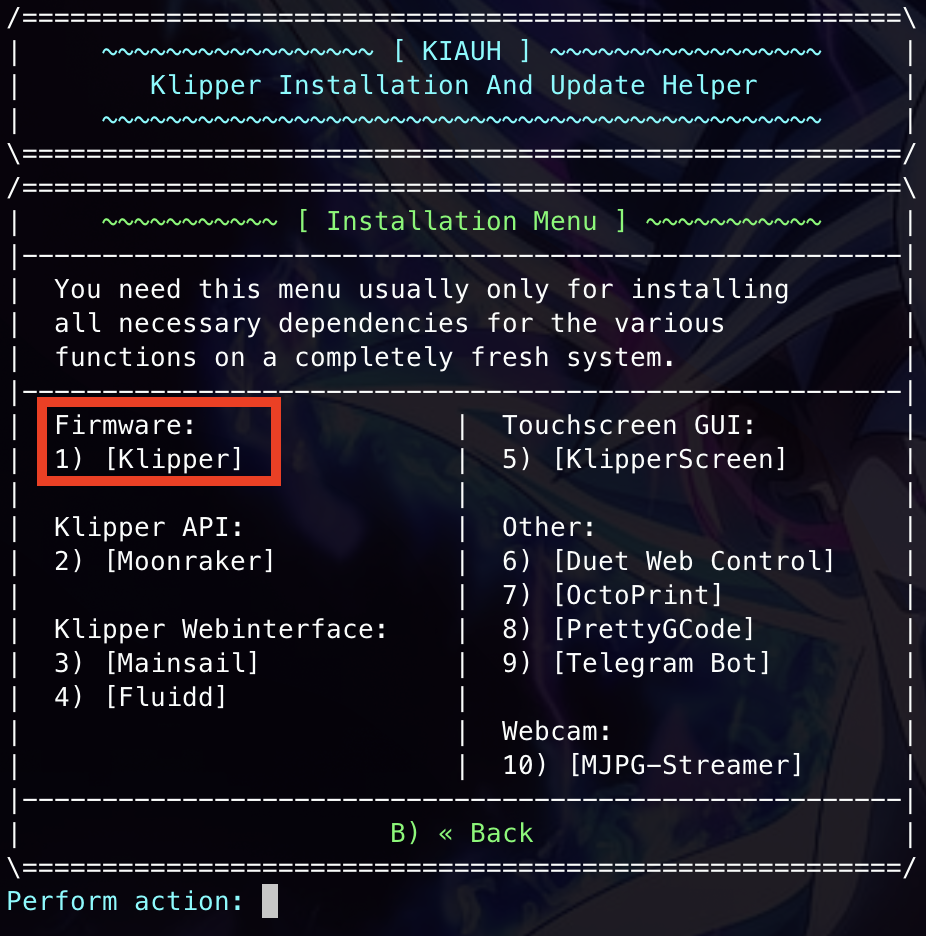 Select Number 2. Install Moonraker. Moonraker is a web server that exposes APIs which lets a front end like Fluidd, Mainsail, or Octopi interact with Klipper.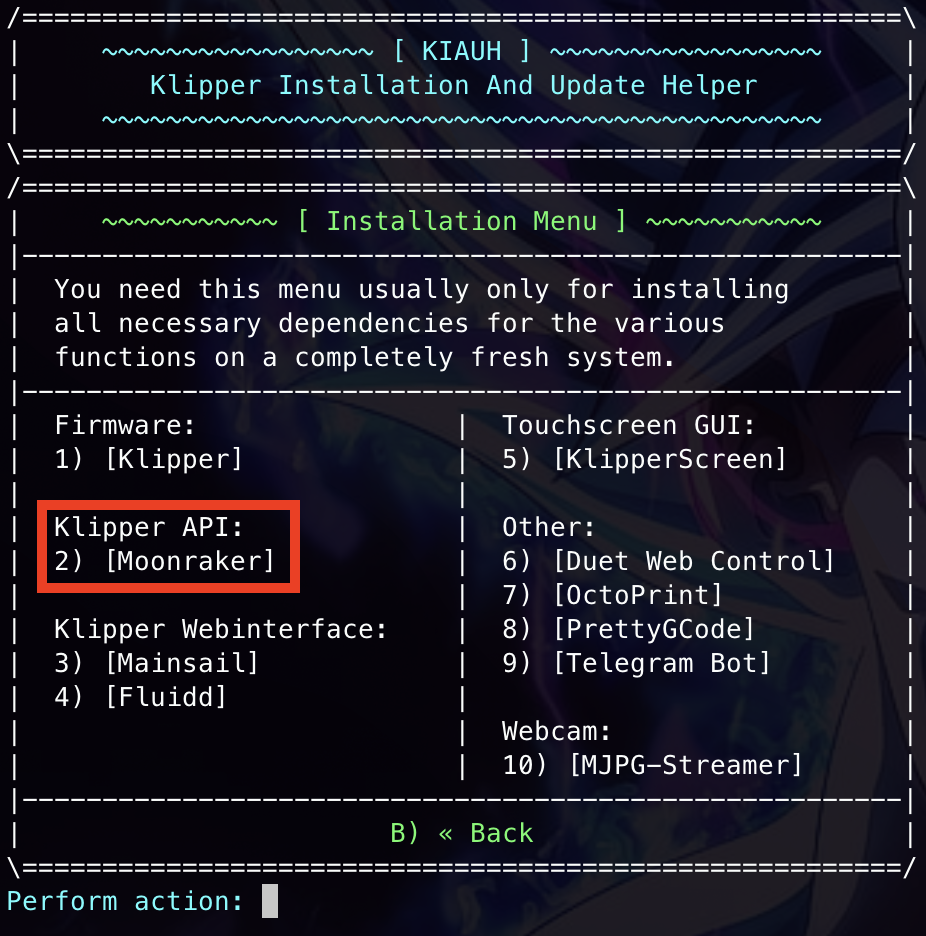 Choose which Klipper front end to use. Select the corresponding number and it will be installed.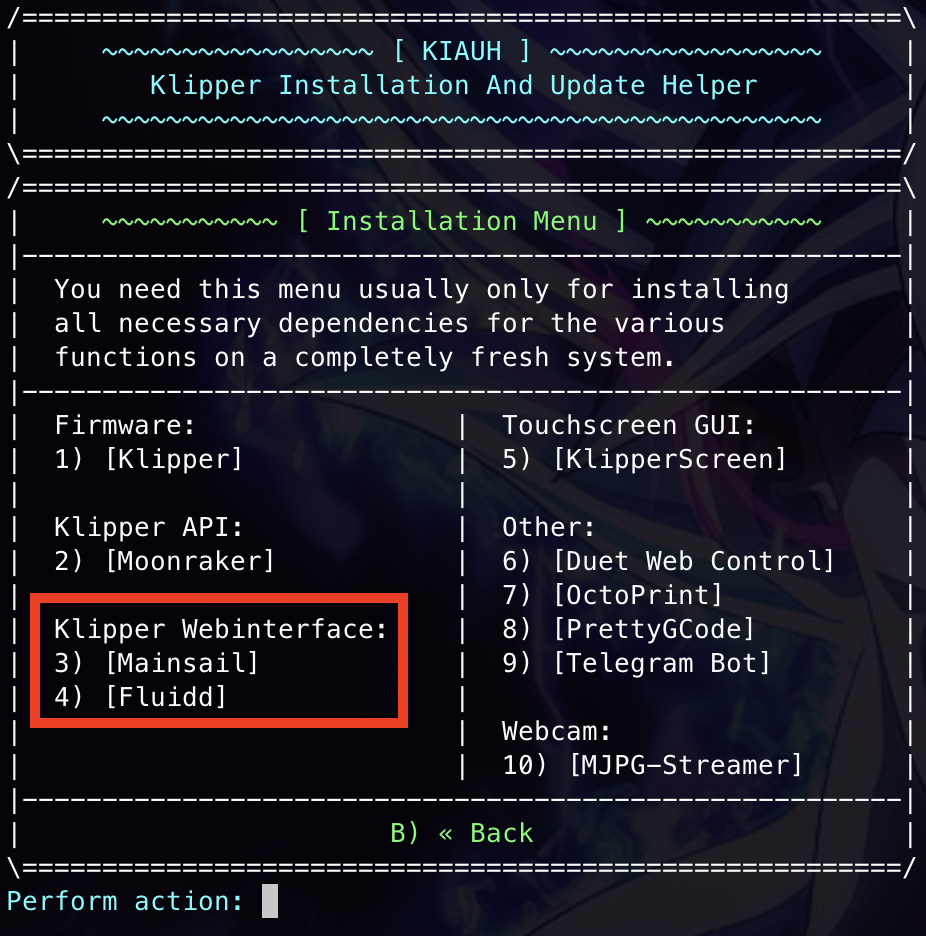 Select Number 4 [Advanced] from the main menu of the KIAUH script.
For this we want to select 3 [Build Only]. Reason being most of the boards do not like the bootloaders. It is easiest to copy the compiled firmware file and copy it to the SD card for your board.
I have listed the settings for a couple of the commonly used boards below.
| Board | Micro-controller | Processor Model | Bootloader Offset | Clock Reference |
| --- | --- | --- | --- | --- |
| SKR 1.4 | STMicroelectronics STM32 | LPC1768 | | |
| SKR 1.4T | STMicroelectronics STM32 | LPC1769 | | |
| SKR2 | STMicroelectronics STM32 | STM32F407 | 32KiB bootloader | |
| SKR Pro | STMicroelectronics STM32 | STM32F407 | 32KiB bootloader | |
| GTR | STMicroelectronics STM32 | STM32F407 | 32KiB bootloader | |
| BTT Octopus | STMicroelectronics STM32 | STM32F446 | 32KiB bootloader | 12MHz Crystal Clock Reference |
The build menu looks like this below:

You may need to select Enable extra low-level configuration options to see some of the options for a few of the boards.
Once you have selected the necessary settings for your board press [Q] you will be prompted to save the configuration and the firmware will be compiled
[B] will take you back and [Q] will quit the script.
Use SCP or WINSCP or some other form to copy the klipper.bin file to your local machine so you can copy it to your sd card for flashing.
scp <username>@<ipaddress>:/home/pi/klipper/out/klipper.bin /local/path/to/copy/file/to
I have taken the time to put together somewhat of a default configuration for the LayerFused X series printers for the commonly used boards. I have these stored in my GitHub repo. Some of them have been tested, some have not. They are still a work in progress but provide a good starting point.
Navigate to the IP address of your Raspberry pi or the hostname, whichever you prefer. This will bring up the Fluidd interface.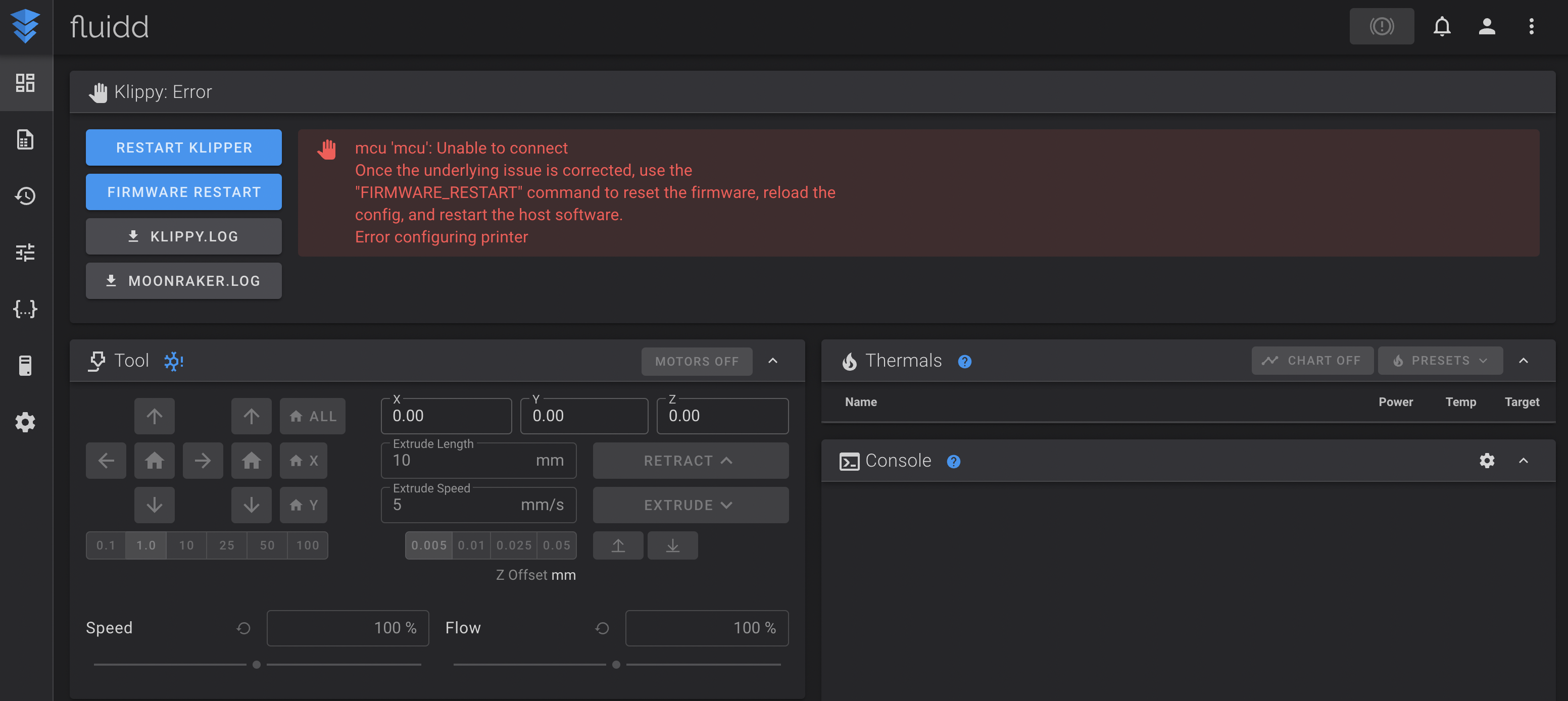 Select Configuration from the menu bar on the left.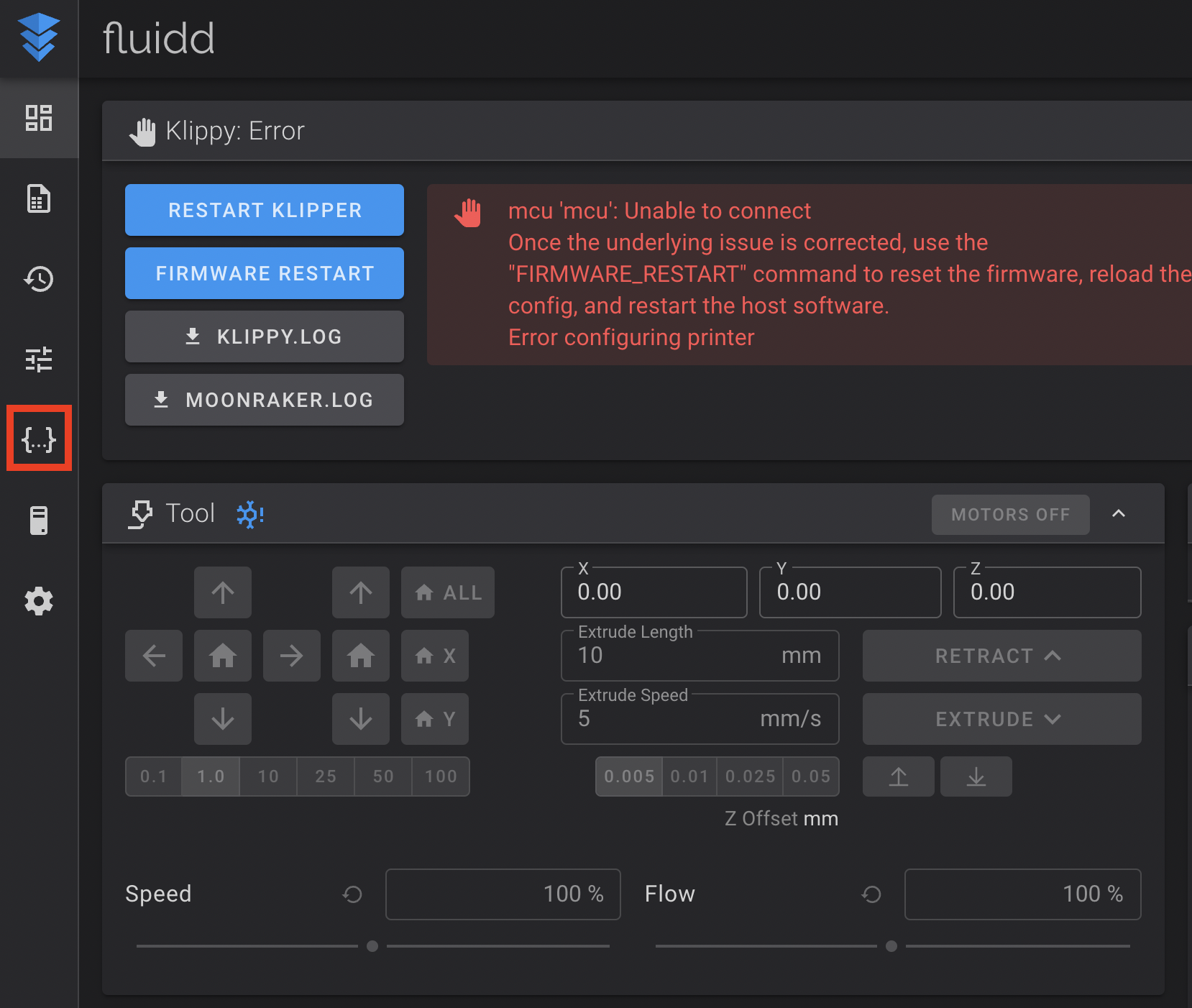 Select either printer.cfg or the "+" to modify/upload a printer configuration file.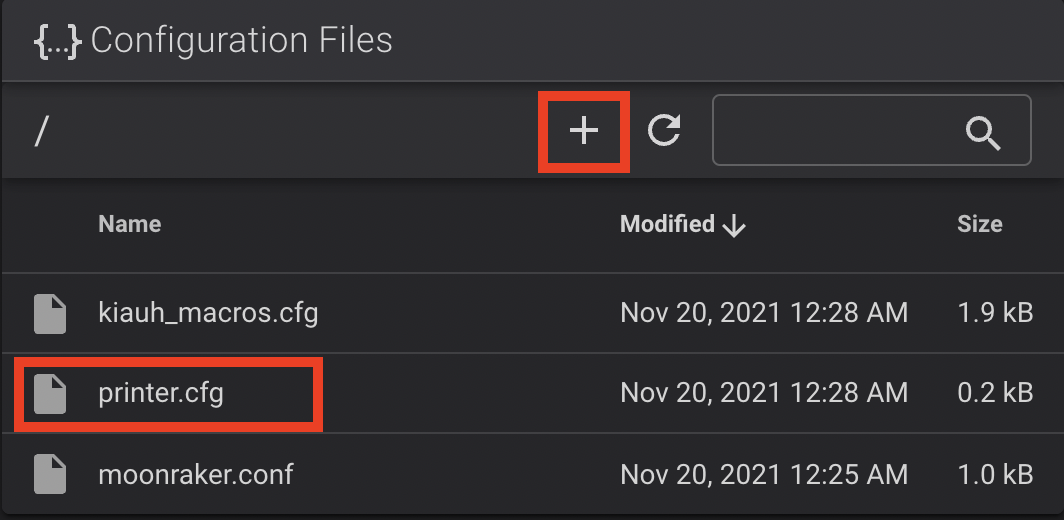 The printer config files I have provided have comments and sections throughout to help let you know what spots to modify for your particular printer setup. If you are using a 3Z setup, 2Z setup, X201, X301, X401, or X501 these configuration files should be set up for every one of them.
¶ Next steps and Tuning
Once you have your printer configuration file set, and you are confident that your printer moves as intended you are ready to start tuning things. If you are using BLTouch you should start with probe calibration and bed mesh. Next you will want to fine tune your Z offset and extrusion or E-steps. From there Pressure advance would be a good next step and finally Resonance tuning. For the last one it is recommended to use an accelerometer although it is not required.
Continue to tuning